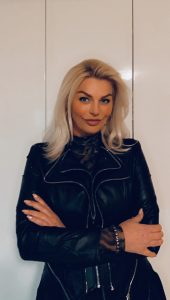 Tamara Sneep
Tamara is the artist working at Madhouse Gallery. At young age Tamara always had a need to express her creativity in many different ways. Today she is an all round artist loving anything that shines. For the last decade Tamara works with Swarovski elements to bedazzle any possible object, from champagne bottles to whole paintings, and from animal skull to resin human skulls. Whenever you pass by the Gallery you probably find her working on one of her art pieces.
Van Apple
For a long time Van Apple was active as an agent for Dutch artists on exhibitions all over the world.
While travelling, his inner creativity started to get more and more important until he needed to express himself. Inspired by experience and his artistic insight he developed his own and unique style of pop art.
His art combines digital techniques with photo art, he is using gold leaf and several items to finish of with epoxy to create a stunning 3D effect.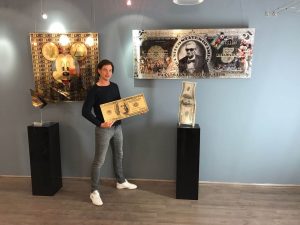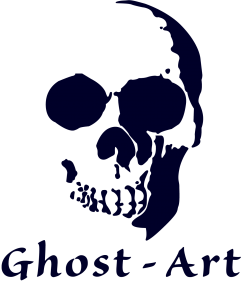 Ghost Art
The mysterious artist behind Ghost Art was born in 1985, The Netherlands.
His art often portrays symbols of prosperity and heroes of the modern era.
The realization of his work consists of newly developed and digital techniques.
He only works with high standards materials like gold leaf and specialized epoxy.
His artwork attracts all people and he is beyond popular with the younger crowds.
Peter Donkersloot
Peter paints his paintings by the old tradition of layer over layer. All these transparent layers gives a painting depth and makes the colours deeper and warmer. All old masters of art always painted like this. Donkersloot had the ambition to become the best artist in the world, but he understands there is no qualification for such…because no one could ever make an objective decision about that. Maybe he could try to make the ultimate painting but then again it would not be able to describe that with words. Peter says if someone could do that it would become unnecessary to paint at all….this is his quest. Peter Donkersloot was involved and gave his name to Gallery Donkersloot in Amsterdam.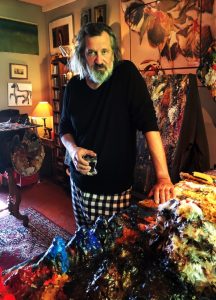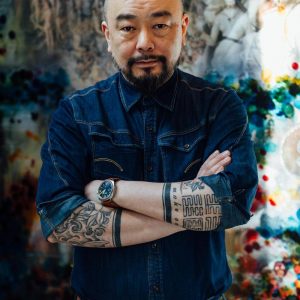 James Chiew
James never educated himself at art school or any design class, he is a autodidact and is now a professional art director and photographer. Since 2001 he has his own graphic design studio and well known in the Netherlands.
His motto is, when you don't like what you see, you need to create it yourself.
Angela Gomes
Born in Amsterdam Angela always liked anything shiny. With her dad being a Goldsmith it really was running in the family. Also she wanted to do the same Angela wasn't quite ready and start working elsewhere.
At one point she started to work on animal skulls, decorate them with various materials.
After that her creativity exploded and brought her where is now…creating all sorts of art.
She says; "To bring my words without using words to the tiniest details is my goal".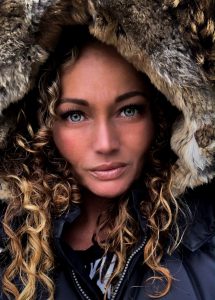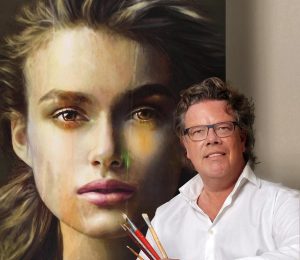 Tos Kostermans
From a young age Tos liked to paint, for years he studied different styles and that made him a portrait painter with a specific and own style. Tos also lived in the USA and Spain but later choose to come back to his hometown in The Netherlands.
In his work you can recognise his interest in different cultures, and art. Internationally he is widely known for his series of The Bold and the beautiful.
Selwyn Senatori
Selwyn Senatori is a famous Dutch/Italian Neo pop artist. He is painting about the inspiring things, about The Dolce Vita, Good food, and wine, Italy, music and movies.
He paints woman and designs with lots of colours. In his paintings you will find his own stories about his Italian background in a unique modern style.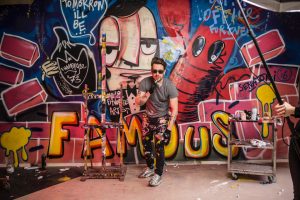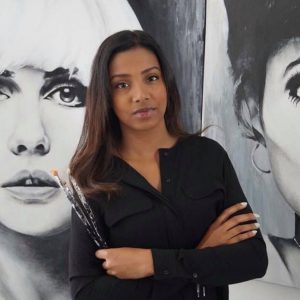 Zubayada Agterhof
Zubayada has been brought up in the atelier from her parents in The Netherlands at age five she began making realistic portraits. Later she combined real life objects with fashion statements.
Golden details Zubayada says are a must! And because of that you can find them in any of her artwork.
Jack Liemburg
Jack is a Dutch artist that has a unique way of looking at art and that completely shows in his work. His paintings are full of passion, power and rebellion. His work is a combination of special painting technique and photography. He gets his inspiration from every day events, travelling and music. All these features you find back on this paintings as they explode from the wall.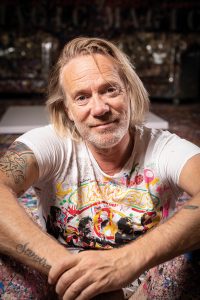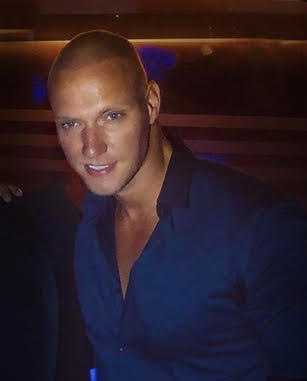 Roy van der Laars
Na jaren als grafisch ontwerper gewerkt te hebben, ontdekte de zelfbenoemde kunstenaar een passie voor moderne kunst.
Hij studeerde moderne kunst en nu is Roy betrokken bij verschillende stijlen qua ontwerpen en materialen.
Elke 2 maanden komt hij terug naar Nederland om zijn nieuwe kunstwerken te produceren voor zijn nieuwe collecties.
'